Matches played at White City Stadium, London
Date of match
Type of match
Name of team
Name of team
Score
Attendance
19th October 1908
Olympic Games quater-final
Denmark
France 'B'
9-0
2,000
20th October 1908
Olympic Games quarter-final
Great Britain
Sweden
12-1
2,000
22nd October 1908
Olympic Games semi-final
Great Britain
Netherlands
4-0
6,000
22nd October 1908
Olympic Games semi-final
Denmark
France
17-1
1,000
23rd October 1908
Olympic Games bronze medal match
Netherlands
France
2-0
1,000
24th October 1908
Olympic Games gold medal match
Great Britain
Denmark
2-0
8,000
5th September 1931
Division Three (South)
Queen's Park Rangers
Bournemouth & Bosombe Athletic
0-3
18,938
10th September 1931
Division Three (South)
Queen's Park Rangers
Swindon Town
1-2
7,646
19th September 1931
Division Three (South)
Queen's Park Rangers
Watford
4-4
16,497
3rd October 1931
Division Three (South)
Queen's Park Rangers
Brighton & Hove Albion
1-1
13,813
24th October 1931
Division Three (South)
Queen's Park Rangers
Coventry City
1-1
12,634
7th November 1931
Division Three (South)
Queen's Park Rangers
Luton Town
3-1
10,993
21st November 1931
Division Three (South)
Queen's Park Rangers
Northampton Town
3-2
12,117
5th December 1931
Division Three (South)
Queen's Park Rangers
Southend United
2-1
17,898
19th December 1931
Division Three (South)
Queen's Park Rangers
Thames
6-0
7,397
26th December 1931
Division Three (South)
Queen's Park Rangers
Torquay United
3-1
24,133
2nd January 1932
Division Three (South)
Queen's Park Rangers
Brentford
1-2
33,533
9th January 1932
FA Cup 3rd round
Queen's Park Rangers
Leeds United
3-1
41,097
28th January 1932
Division Three (South)
Queen's Park Rangers
Crystal Palace
2-2
8,369
6th February 1932
Division Three (South)
Queen's Park Rangers
Mansfield Town
1-1
12,079
20th February 1932
Division Three (South)
Queen's Park Rangers
Norwich City
2-2
9,632
27th February 1932
Division Three (South)
Queen's Park Rangers
Exeter City
1-0
14,418
10th March 1932
Division Three (South)
Queen's Park Rangers
Gillingham
7-0
3,881
26th March 1932
Division Three (South)
Queen's Park Rangers
Cardiff City
2-3
8,324
28th March 1932
Division Three (South)
Queen's Park Rangers
Clapton Orient
3-2
11,533
9th April 1932
Division Three (South)
Queen's Park Rangers
Reading
2-0
6,755
23rd April 1932
Division Three (South)
Queen's Park Rangers
Fulham
3-1
21,572
7th May 1932
Division Three (South)
Queen's Park Rangers
Bristol Rovers
2-1
7,186
27th August 1932
Division Three (South)
Queen's Park Rangers
Brentford
2-3
24,381
1st September 1932
Division Three (South)
Queen's Park Rangers
Aldershot
2-2
5,998
10th September 1932
Division Three (South)
Queen's Park Rangers
Crystal Palace
2-1
15,955
24th September 1932
Division Three (South)
Queen's Park Rangers
Watford
2-1
10,653
8th October 1932
Division Three (South)
Queen's Park Rangers
Reading
0-3
11,250
22nd October 1932
Division Three (South)
Queen's Park Rangers
Coventry City
3-3
7,612
5th November 1932
Division Three (South)
Queen's Park Rangers
Northampton Town
1-1
8,895
19th November 1932
Division Three (South)
Queen's Park Rangers
Swindon Town
4-2
5,802
1st December 1932
FA Cup 1st round replay
Queen's Park Rangers
Merthyr Town
5-1
6,000
3rd December 1932
Division Three (South)
Queen's Park Rangers
Newport County
6-1
6,514
15th December 1932
FA Cup 2nd round replay
Queen's Park Rangers
Torquay United
3-1
7,100
17th December 1932
Division Three (South)
Queen's Park Rangers
Exeter City
1-3
7,485
26th December 1932
Division Three (South)
Queen's Park Rangers
Brighton & Hove Albion
0-1
9,177
4th January 1933

Floodlit friendly

(see press cuttings below)

Combined Arsenal, Chelsea, Tottenham Hotspur & West Ham United XI
Combined rest of London & Watford XI
3-0
9,500
7th January 1933
Division Three (South)
Queen's Park Rangers
Southend United
6-1
5,588
28th January 1933
Division Three (South)
Queen's Park Rangers
Gillingham
1-1
4,169
11th February 1933
Division Three (South)
Queen's Park Rangers
Cardiff City
5-1
5,347
25th February 1933
Division Three (South)
Queen's Park Rangers
Norwich City
2-2
4,586
11th March 1933
Division Three (South)
Queen's Park Rangers
Bristol City
1-1
6,342
25th March 1933
Division Three (South)
Queen's Park Rangers
Clapton Orient
2-1
5,320
8th April 1933
Division Three (South)
Queen's Park Rangers
Bournemouth & Boscombe Athletic
3-1
4,176
14th April 1933
Division Three (South)
Queen's Park Rangers
Bristol Rovers
1-1
6,683
22nd April 1933
Division Three (South)
Queen's Park Rangers
Luton Town
3-1
2,837
6th May 1933
Division Three (South)
Queen's Park Rangers
Torquay United
1-1
3,079
27th November 1937
FA Cup 1st round
Corinthians
Southend United
0-2
4,000
6th October 1962
Division Three
Queen's Park Rangers
Notts County
0-1
15,594
22nd October 1962
Division Three
Queen's Park Rangers
Hull City
4-1
18,281
3rd November 1962
FA Cup 1st round
Queen's Park Rangers
Newport County
3-2
12,252
17th November 1962
Division Three
Queen's Park Rangers
Reading
3-2
10,313
24th November 1962
FA Cup 2nd round
Queen's Park Rangers
Hinckley Athletic
7-2
13,012
1st December 1962
Division Three
Queen's Park Rangers
Shrewsbury Town
0-0
10,347
22nd December 1962
Division Three
Queen's Park Rangers
Carlisle United
2-2
9,723
9th February 1963
Division Three
Queen's Park Rangers
Northampton Town
1-3
14,238
2nd March 1963
Division Three
Queen's Park Rangers
Bournemouth & Boscombe Athletic
1-0
8,393
16th March 1963
Division Three
Queen's Park Rangers
Bradford Park Avenue
1-2
7,355
30th March 1963
Division Three
Queen's Park Rangers
Bristol City
3-1
5,716
1st April 1963
Division Three
Queen's Park Rangers
Colchester United
1-2
7,688
8th April 1963
Division Three
Queen's Park Rangers
Southend United
1-0
7,522
12th April 1963
Division Three
Queen's Park Rangers
Bristol Rovers
3-5
10,169
13th April 1963
Division Three
Queen's Park Rangers
Port Vale
3-1
5,690
19th April 1963
UEFA under-18 youth tournament
England
Scotland
1-0
21,000
27th April 1963
Division Three
Queen's Park Rangers
Millwall
2-3
8,583
13th May 1963
Division Three
Queen's Park Rangers
Watford
2-2
5,052
18th May 1963
Division Three
Queen's Park Rangers
Peterborough United
0-0
5,977
22nd May 1963
Division Three
Queen's Park Rangers
Coventry City
1-3
3,261
15th July 1966
World Cup finals group stage
Uruguay
France
2-1
45,662
5th April 1968
British Amateur Championship
England
Scotland
0-0
450
10th April 1968
Olympic qualification third round 2nd leg
Great Britain
Spain
0-0
2,300
14th October 1980
Charity 5-a-side match
West Ham United
Arsenal
tbc
tbc
Pictures from the 1908 Olympic Games - the 100m swimming pool is within the central grassed area on the right-hand side (top picture) and the left-hand side (bottom picture). The whole stadium was going to be demolished at the end of 1908 when the Franco-British Exhibition ended but was saved as athletes liked th ground so much.
Note the 2 different tracks around the outside of the central area: a concrete cycling track, then a cinder athletics track.
For the Olympics, the cnetral grassed area was used for the athletic field events plus archery, gymnastics, wrestling, football, hockey, lacrosse and rugby union. There was also a demonstration of bicycle polo.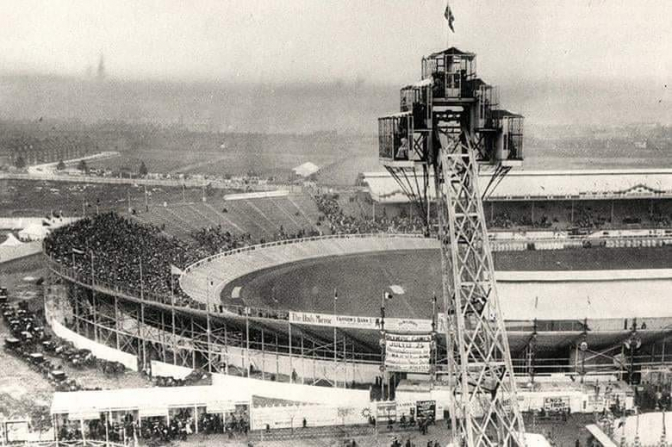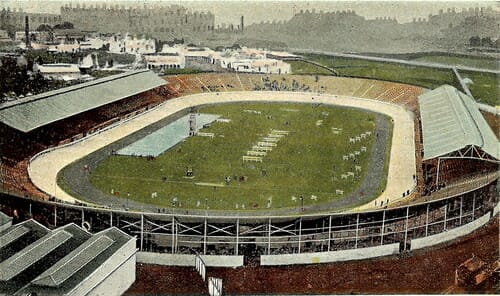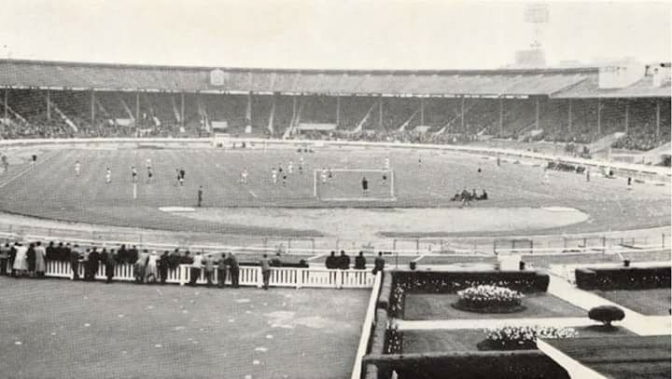 Pictures of the programme of the floodlit friendly on Wednesday 4th January 1933
(credit to West Ham online museum)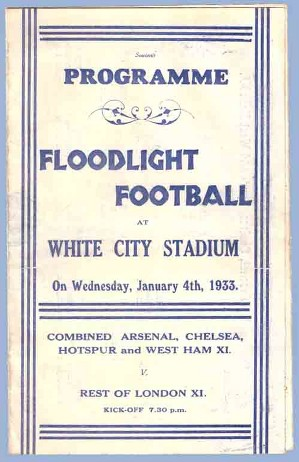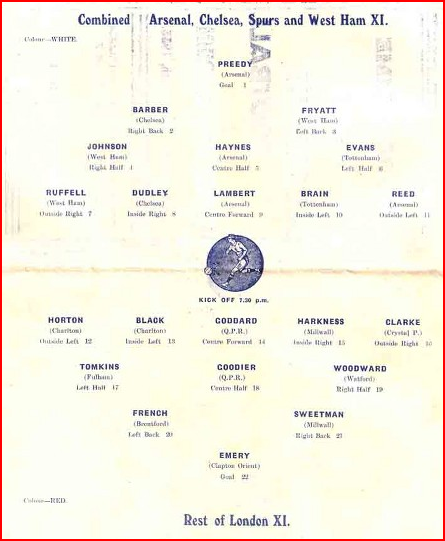 Copy of news report from The Daily Mirror

(with thanks to Roger Hillier for sharing this information)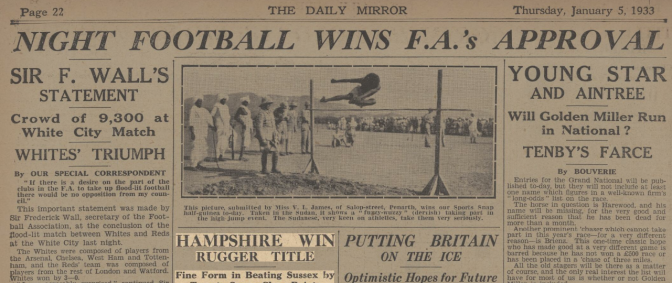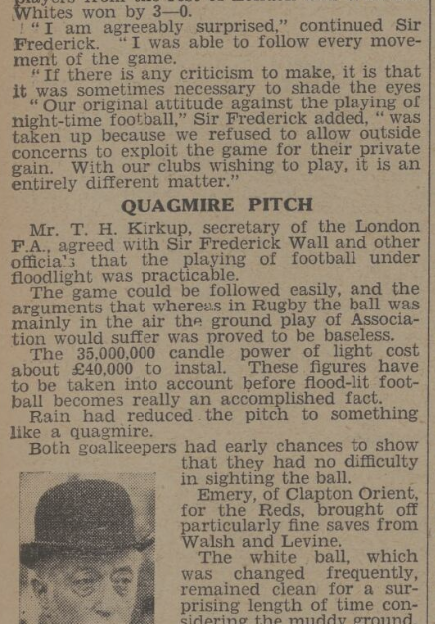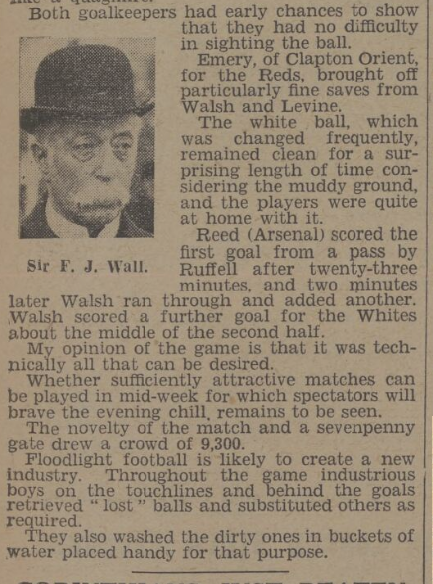 Copy of news report from The Daily Herald - 5th January 1933

(with thanks to Roger Hillier for sharing this information)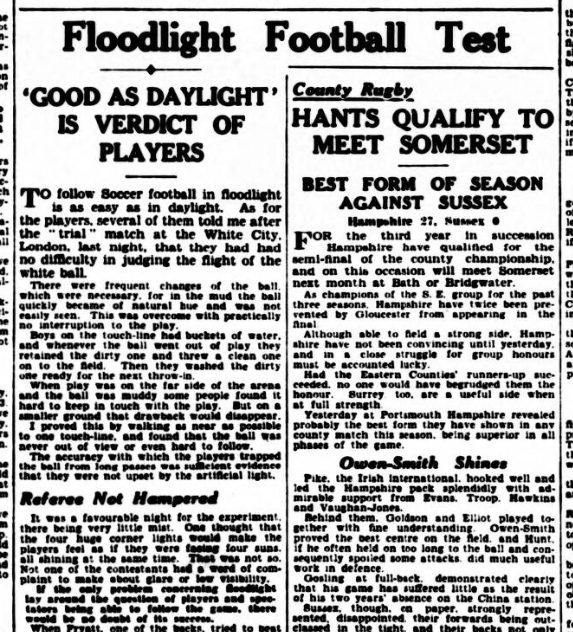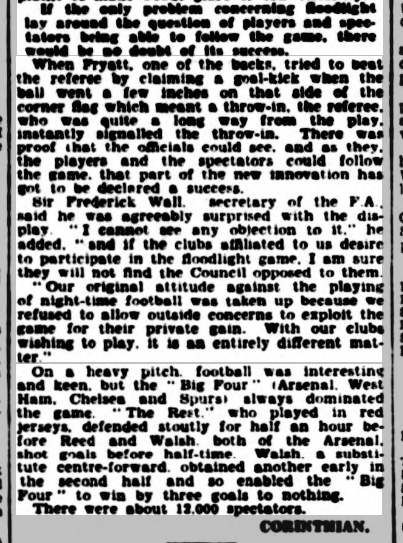 Copy of news report for the England Youth v Scotland Youth on 19 April 1963

(with thanks to Roger Hillier for sharing this information):