Matches played at Portman Road, Ipswich
Date of match
Type of match
Name of team
Name of team
Score
Attendance
4 October 1890
FA Cup 1st qualifying round
Ipswich Town
Reading
2-0
-
15 November 1890
FA Cup 3rd qualifying round
Ipswich Town
Hunts County
5-2
-
12 December 1890
FA Cup 4th qualifying round
Ipswich Town
93rd Highland Regiment
1-4
-
15 October 1892
FA Cup 1st qualifying round
Ipswich Town
Old Wykehamists
4-0
-
1 January 1938
International Trial match
England
The Rest
1-0
6,000
23 January 1939
Division Three (South) Cup 2nd round replay
Ipswich Town
Northampton Town
1-0
400
19 December 1949
International Trial match
England
The Rest
1-3
5,079
11 August 1962
FA Charity Shield
Tottenham Hotspur
Ipswich Town
5-1
20,067
25 September 1962
European Cup preliminary round 2nd leg
Ipswich Town
Floriana
10-0
25,287
28 November 1962
European Cup 1st round 2nd leg
Ipswich Town
AC Milan
2-1
37,000
24 November 1971
International under-23 match
England
Switzerland
1-1
17,530
12 September 1972
Texaco Cup 1st round 1st leg
Ipswich Town
St Johnstone
4-2
11,849
24 October 1972
Texaco Cup 2nd round 1st leg
Ipswich Town
Wolverhampton Wanderers
2-1
14,245
10 April 1973
Texaco Cup semi-final 2nd leg
Ipswich Town
Newcastle United
1-0
18,817
4 May 1973
Texaco Cup final 1st leg
Ipswich Town
Norwich City
2-1
29,698
18 November 1980
UEFA under-21 championship preliminaries
England
Switzerland
5-0
3,808
6 May 1981
UEFA Cup final 1st leg
Ipswich Town
AZ Alkmaar
3-0
27,532
10 September 1985
International under-21 match
England
Romania
3-0
2,093
15 October 1985
International under-21 match
England
Turkey
3-0
3,826
16 September 1986
Full Members Cup 1st round
Ipswich Town
Plymouth Argyle
3-2
5,752
2 December 1986
Full Members Cup 3rd round
Ipswich Town
Aston Villa
1-0
8,224
10 November 1987
Simod Cup 1st round
Ipswich Town
Middlesbrough
1-0
6,108
1 December 1987
Simod Cup 2nd round
Ipswich Town
West Bromwich Albion
2-1
5,308
25 January 1988
Simod Cup 3rd round
Ipswich Town
Watford

5-2

(aet)

7,466
20 December 1988
Simod Cup 2nd round
Ipswich Town
Norwich City

1-0

(aet)

18,024
10 January 1989
Simod Cup 3rd round
Ipswich Town
Blackburn Rovers

1-0

8,155
24 January 1989
Simod Cup quarter-final
Ipswich Town
Nottingham Forest

1-3

16,498
25 April 1989
UEFA under-21 championship preliminaries
England
Albania
2-0
6,023
17 November 1998
International under-21 match
England
Czech Republic
0-1
13,768
21 November 1989
Zenith Data Systems Cup 2nd round
Ipswich Town
Watford
4-1
5,078
21 December 1989
Zenith Data Systems Cup 3rd round
Ipswich Town
Wimbledon
3-1
7,918
23 January 1990
Zenith Data Systems Cup semi-final
Ipswich Town
Chelsea
2-3
13,365
22 January 1991
Zenith Data Systems Cup 3rd round
Ipswich Town
Oxford United
2-1
7,456
22 October 1991
Zenith Data Systems Cup 2nd round

Ipswich Town

(win 2-1 on pens.)

Luton Town

1-1

(aet)

5,750
14 February 2002
International under-19 match
England
Germany
3-1
tbc
20 August 2003
International friendly
England
Crotia
3-1
30,000
15 August 2006
UEFA under-21 championship preliminaries
England
Moldova
2-2
13,556
15 October 2013
UEFA under-21 championship preliminaries
England
Lithuania
5-0
17,067
Portman Road, a council-owned recreation ground, was first used by Ipswich AFC in 1884. The club merged with rugby club Ipswich FC in 1888, forming Ipswich Town FC. Matches were first played on an area adjacent to the current football ground, which at the time was regarded as a bit of a wasteland.
The first game at the site of the new pitch was played in 1907. Unfortunately, Ipswich Town missed out on being the first to play there as their planned opening game was cancelled due to snow.
The club remained amateur until 1936. Before this, Ipswich was the largest town in England not to have a professional team. The club's slow start ensured that Portman Road remained relatively undeveloped at a time when other clubs were building ambitious new stands that would accommodate generations of fans.
Redevelopment at Portman Road was spurred-on by a proviso in the ground's lease renewal, resulting in three new stands being built between 1968 and 1984. In 1992 it became the first Premier League ground to have all-seat stands on all four sides.
The financial rewards for reaching the Premier League in 2000 helped to finance the construction of new, two-tiered stands at either end of the ground. They are named after two club legends, Sir Alf Ramsey and Sir Bobby Robson, former managers who went on to lead the national team.
This aerial view from 1933 shows the recreation ground at Portman Road and Ipswich Cattle Market. Ipswich Town played matches here until 1907 when a new pitch was formed on land just beyond the cricket pitch boundary.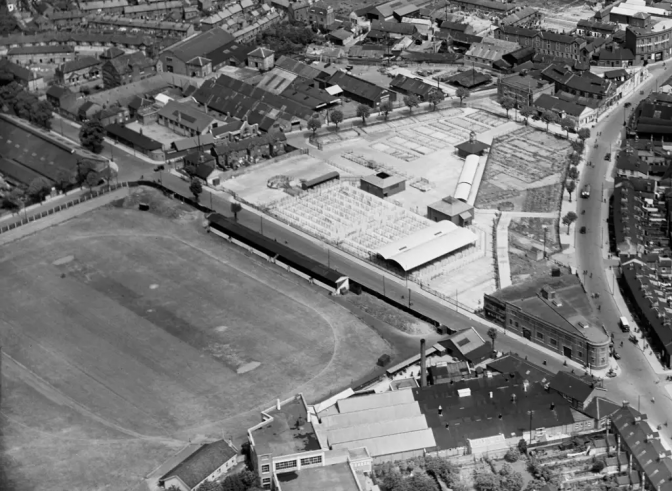 Portman Road's first playing area is now a training pitch. This view shows the ground before the stands behind each goal were redeveloped in the early 2000s.