Matches played at Leeds Road, Huddersfield
Date of match
Type of match
Name of team
Name of team
Score
Attendance
19 February 1910
International Amateur match
England
Wales
6-0
8,000
18 November 1911
International Amateur match
England
Ireland
2-0
3,000
12 March 1932
FA Cup semi-final
Newcastle United
Chelsea
2-1
36,709
18 March 1933
FA Cup semi-final
Manchester City
Derby County
3-2
51,961
17 March 1934
FA Cup semi-final
Manchester City
Aston Villa
6-1
45,473
21 March 1936
FA Cup semi-final
Arsenal
Grimsby Town
1-0
63,210
10 April 1937
FA Cup semi-final
Sunderland
Millwall
2-1
62,813
27 November 1946
International friendly
England
The Netherlands
8-2
32,435
7 February 1948
FA Cup 5th round
Manchester United
Charlton Athletic
2-0
33,012
14 March 1951
FA Cup semi-final replay
Newcastle United
Wolverhampton Wanderers
2-1
47,349
9 March 1964
FA Cup 6th round 2nd replay
Manchester United
Sunderland
5-1
54,952
21 August 1971
Football League Division One
Leeds United
Wolverhampton Wanderers
0-0
20,687
4 September 1971
Football League Division One
Leeds United
Crystal Palace
2-0
18,417
15 September 1971
Texaco Cup 1st round 1st leg
Huddersfield Town
Morton
1-0
5,769
19 October 1971
Texaco Cup quarter-final 1st leg
Huddersfield Town
Airdrieonians
1-2
5,462
14 September 1985
Football League Division Two
Bradford City
Hull City
4-2
4,930
12 October 1985
Football League Division Two
Bradford City
Barnsley
2-0
5,707
1 January 1986
Football League Division Two
Bradford City
Sunderland
2-0
8,369
8 March 1986
Football League Division Two
Bradford City
Blackburn Rovers
3-2
5,263
23 April 1986
Football League Division Two
Bradford City
Middlesbrough
2-1
3,426
26 April 1986
Football League Division Two
Bradford City
Shrewsbury Town
3-1
4,663
16 September 1986
Full Members Cup 1st round
Huddersfield Town
Blackburn Rovers

1-2

(aet)

1,947
17 November 1991
FA Cup 1st round
Emley
Bolton Wanderers
0-3
9,035
Leeds Road was home to Huddersfield Town from 1908, the year the club was formed. Shortly after, football's architect in chief, Archibald Leitch, was engaged to reconstruct the site.
The pitch was turned 90 degrees, and the Main Stand, a partially-covered terrace and two banks of the open terrace were built. The photograph below shows the upgrading of the concrete steps of the Popular Terrace after the Second World War. A roof was later added.
Huddersfield's last match at Leeds Road was played in April 1994. The club made the short trip over the River Colne to the Alfred McAlpine Stadium (now the John Smith's Stadium), home to both the town's football and rugby league clubs.
'Alf' was awarded RIBA's Building of the Year award in 1995, while the Leeds Road site became a retail park.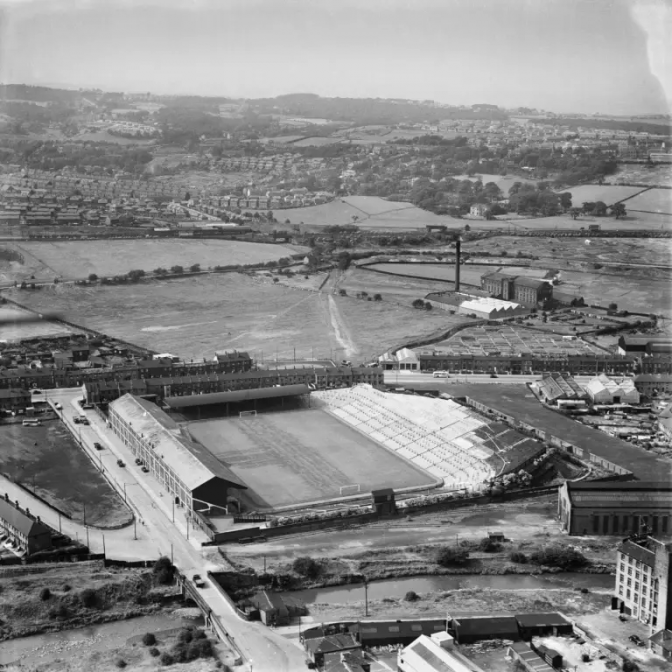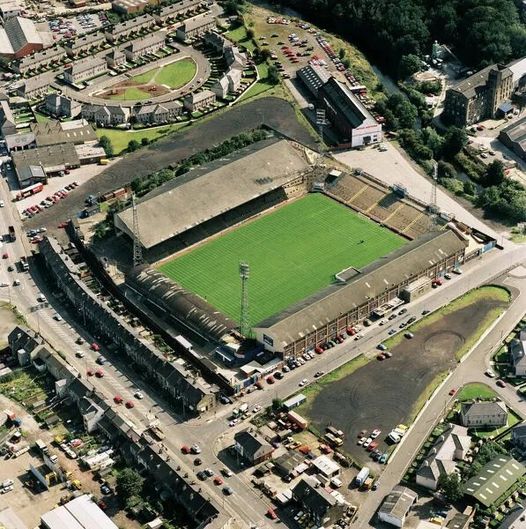 Photograph from the record attendance match, Huddersfield Town versus Arsenal, FA Cup quarter-final, 1932 (final attendance: 67,037)