FA CUP 1874-75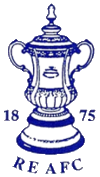 Winners: Royal Engineers
Runners-up: Old Etonians
Holders from previous season: Oxford University
First round

14 November 1874

Crystal Palace
0
-
0
Cambridge University
Walkover
Civil Service
Harrow Chequers
Scratched

7 November 1874

Clapham Rovers
3
-
0
Panthers
not known

14 November 1874

Hitchin
0
-
1
Maidenhead
Nicholls
5 November 1874
Old Etonians
0
-
0
Swifts

31 October 1874

Oxford University
6
-
0
Brondesbury

Parry 3, Hughes 2, Cripps

10 October 1874

Pilgrims
3
-
1
South Norwood
Good 2, others 1

not known

7 November 1874

Royal Engineers
3
-
0
Great Marlow
von Donop, others 2
Walkover
Shropshire Wanderers
Sheffield
Scratched

14 November 1874

Southall
0
-
0
Leyton

24 October 1874

Upton Park
0
-
3
Barnes
Hudson, Morice, Soden

31 October 1874

Wanderers
16
-
0
Farningham

Kingsford 5, Wollaston 4,

Alcock 2, Chenery 2,

Heron 2, Kenrick

Walkover
Windsor Home Park
Uxbridge
Scratched

31 October 1874

Woodford Wells
1
-
0
High Wycombe
W.Spreckley
Bye
Reigate Priory

Replays

21 November 1874

Cambridge University
2
-
1
Crystal Palace

Simpson, 1 other

Fleet

14 November 1874

Swifts
1
-
1
Old Etonians
Joll

Bonsor

28 November 1874

Leyton
0
-
5
Southall
not known

Second Replay

26 November 1874

Old Etonians
3
-
0
Swifts
not known

Second round

5 December 1874

Clapham Rovers
2
-
0
Pilgrims
Bevington, Field

5 December 1874

Maidenhead
2
-
1
Reigate Priory
Burnham 2
W.Laker
Walkover
Oxford University
Windsor Home Park
Scratched

5 December 1874

Royal Engineers
5
-
0
Cambridge University

Mulholland, Rawson,

Stafford, others

14 November 1874

Shropshire Wanderers
1
-
0
Civil Service

not known

21 November 1874

Wanderers
5
-
0
Barnes

Alcock 3, Kenrick, Wollaston

5 December 1874

Woodford Wells
3
-
0
Southall
Wild 2, Bouch
Bye
Old Etonians

Quarter-final

23 January 1875

Old Etonians
1
-
0
Maidenhead
not known

30 January 1875

Royal Engineers
3
-
2
Clapham Rovers
Mein, Stafford, 1 other
Bevington, 1 other

23 January 1875

Shropshire Wanderers
1
-
1
Woodford Wells
aet
Fletcher
Powell

30 January 1875

Wanderers
1
-
2
Oxford University
Rawson (og)

Otter, Simpson

Replay

6 February 1875

Woodford Wells
0
-
2
Shropshire Wanderers
Randall, Fraser

Semi-final

27 February 1875

Old Etonians
1
-
0
Shropshire Wanderers

Played at Kennington Oval, London

Bonsor

27 February 1875

Royal Engineers
1
-
1
Oxford University

Played at Kennington Oval, London

Renny-Tailyour

Bain

Replay

5 March 1875

Oxford University
0
-
1
Royal Engineers

Played at Kennington Oval, London

Renny-Tailyour

aet

Final

13 March 1875

Royal Engineers
1
-
1
Old Etonians

Played at Kennington Oval, London

2,000

Renny-Tailyour (40)

Bonsor (30)

aet

Team

GK: Capt William Merriman

DF: Lieut George Sim

DF: Lieut Gerald Onslow

MF: Lieut Richard Ruck

MF: Lieut Pelham von Donop

MF: Lieut Charles Wood

FW: Lieut Herbert Rawson

FW: Lieut William Stafford

FW: Capt Henry Renny-Tailyour

FW: Lieut Cecil Wingford-Stratford

FW: Lieut Alexander Mein

Team

GK: Charles Farmer

DF: Hon Arthur Kinnaird

DF: Sir James Stronge

MF: William Kenyon-Slaney

MF: Robert Benson

MF: Frederick Patton

FW: Cuthbert Ottaway

FW: Alexander Bonsor

FW: Albert Thompson

FW: Edgar Lubbock

FW: Francis Wilson

Referee:

Charles Alcock

(Wanderers FC)

Replay

16 March 1875

Royal Engineers
2
-
0
Old Etonians

Played at Kennington Oval, London

3,000
Renny-Tailyour, Stafford

Team

GK: Capt William Merriman

DF: Lieut George Sim

DF: Lieut Gerald Onslow

MF: Lieut Richard Ruck

MF: Lieut Pelham von Donop

MF: Lieut Charles Wood

FW: Lieut Herbert Rawson

FW: Lieut William Stafford

FW: Capt Henry Renny-Tailyour

FW: Lieut Cecil Wingfield-Stratford

FW: Lieut Alexander Mein

Team

GK: Charles Farmer

DF: Hon Arthur Kinnaird

DF: Sir James Stronge

MF: Capt Edward Drummond-Moray

MF: Alfred Lubbock

MF: Frederick Patton

FW: Thomas Hammond

FW: Alexander Bonsor

FW: Matthew Farrer

FW: Edgar Lubbock

FW: Francis Wilson

Referee:

Charles Alcock

(Wanderers FC)
Match Summary
The first match was notable chiefly because it was played in a "howling gale". The conditions considerably favoured the Etonians team, which had the wind at its backs for all but 10 minutes of the 90, and all 30 minutes of extra time (teams in this period changed ends after every goal - this game was the last to feature this rule).
Cuthbert Ottaway received a severe hack on his ankle 37 minutes into the final and was forced to leave the field; in his absence, the Old Boys were regarded as fortunate to have held on for a 1–1 draw.
Ottaway failed to recover in time for the replay, held only three days later, and Etonians also lost the services of three other players who had prior commitments. Unable to obtain adequate replacements, the Old Boys arrived at the ground an hour late and lost the delayed replay 0–2.
Henry Renny-Tailyour scored in both matches for the Engineers.